Through Phantom Eyes
News
May 13th 2017
Wow! Has it really been that long?!?! I'm so sorry for not keeping this page updated. A lot has gone down in the last 4 ½ years for yours truly and for Ms. Bruns. There's been a lot of surgeries and hospital stays that have delayed the release of volume six but I finally have some great news!
Volume six has been sent to the printers! I am very honored to have had a personal part in the making of this volume's interior sketch and can't wait to show it to you. So stay tuned, LOTS of exciting things are happening!
November 29th 2012
They're here! I am very happy to announce that both the paperback and hardbound editions of Christine have arrived and are now being shipped out! Please feel free to send me your thoughts on this pivotal new volume!
November 24th 2012
Great news...I am expecting volume five's paperbacks this Tuesday the 27th! I can't wait for all of you TPE fans to start reading Christine, I guarantee this volume will be your favorite, at least until you get volume six!
October 26th 2012
Here is the exciting interior sketch to Christine.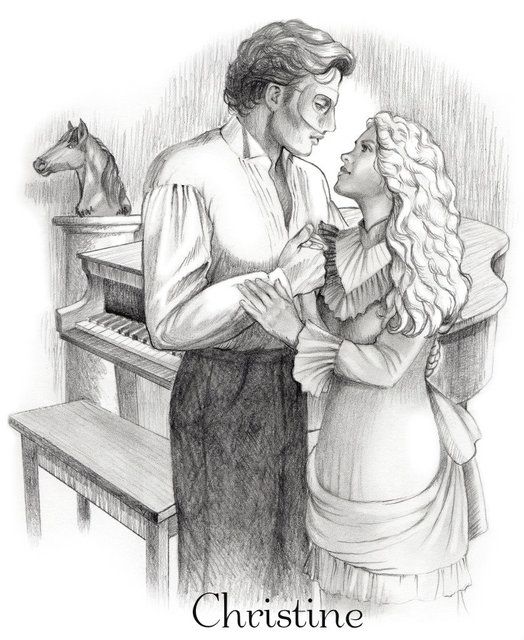 October 25th 2012
I'm so sorry it's been so long since I've posted anything about TPE. For those of you who follow Ms. Bruns or TPE on Facebook, you know that this has been a very rough year. Ms. Bruns has now had 6 deaths in her family among many health issues with her daughters.
Alas, I have great news about volume 5, Christine, it is now available for pre-order with the expected delivery date by the end of November! Shop now my lovelies and receive your new edition in time for the holidays!
June 14th 2012
I have begun my edits on volume six, Unmasked Hearts! I'm so fortunate to be a part of these early edits. Thank you so much Theodora for taking us all on this amazing journey!
May 1st 2012
I am SUPER excited to announce that I am finished with my part of the edits for volume five, which has been shortened to simply Christine. It will be an amazing release everyone!
April 29th 2012
I wanted to include the latest review of Guidance; new fans are finding this amazing series all the time!
"Theodora Bruns has created an awe inspiring story about the Phantom of the Opera's childhood. After reading this, I couldn't stop thinking about the next book in the series and wondering where Theodora Bruns would take Erik next. I enjoyed how she created a back story to those small details that only true Phans would catch. Since reading this novel, I have found it is hard to read other works about the Phantom of the Opera because Theodora Bruns leaves nothing out while still filling in the gaps. I recommend reading this book along with the three that are already published. Be warned, there are going to be eight books in the series, so if you fall in love with this one, then you will find yourself guaranteed to read all of them."
February 14th 2012
I'm so proud to be one of the editors on the TPE series. I'm almost done with my edits on the volume 5, Christine, Christine! I can't wait to see the response of this release, SO exciting!
November 25th 2011
Volumes 1 & 2 of the Through Phantom Eyes series are now available on all e-readers, like Kindle and Nook! Volumes 3 & 4 are on the way.
November 12th 2011
Ms. Bruns was wonderful on Sacramento & Co. this past week! You can watch her interview here!
November 8th 2011
Attention all Through Phantom Eyes fans in the greater Sacramento area…Ms. Bruns will be appearing on Sacramento & Co. on local channel 10 on November 10th. She will also be appearing in person to meet fans and sign books at The Market Place Rancho on November 12th. Let's support our favorite local author Sacramento!
November 1st 2011
Shrouded Castle is officially here! Available in soft covers and hard bounds in store now.
September 5th 2011
Shrouded Castle is here! I am happy to now offer volume IV via pre-orders. Be the first to get your newest fix HERE!
September 1st 2011
The first professional review for Shrouded Castle is in!
"Another masterful tale! A riveting account of Erik's ongoing trials, tribulations, and triumphs. Fascinating, suspenseful, and often heart-wrenching. Bruns brings Erik to life. Rich food for the emotions, mind and soul."
~ Susan Rueppel, Ph.D.
Chief Intuition Officer, Energetic Wisdom
August 15th 2011
Volume IV ~ Shrouded Castle has been sent to print! Although the volume won't be available to the public until November, it will be available to DCF customers shortly! Get ready to follow Erik from the building of the famed Opera House to the first time he sees Christine. Stay tuned!
May 1st 2011
I'm so sorry! It's terrible that it's been almost an entire year since I've last posted about Through Phantom Eyes but I have lots of updates now.
Firstly…Ms. Bruns was diagnosed with breast cancer last summer and although her recovery has been a bit slow, she is now cancer free and recently gliding through her 69th birthday. So all good things now.
Secondly…Ms. Bruns has once again been invited to join Northern California Publishers & Authors (NCPA) at the California State Fair this summer. Ms. Bruns is thrilled as only a few of California's authors are invited to take part in this event each year. I will have the dates posted soon.
Thirdly…The final revisions for volume four, Shrouded Castle, have been completed and the manuscript has been submitted to the publisher for finalization! I am very excited to premiere the interior sketch below. It will no doubt electrify everyone! Check it out...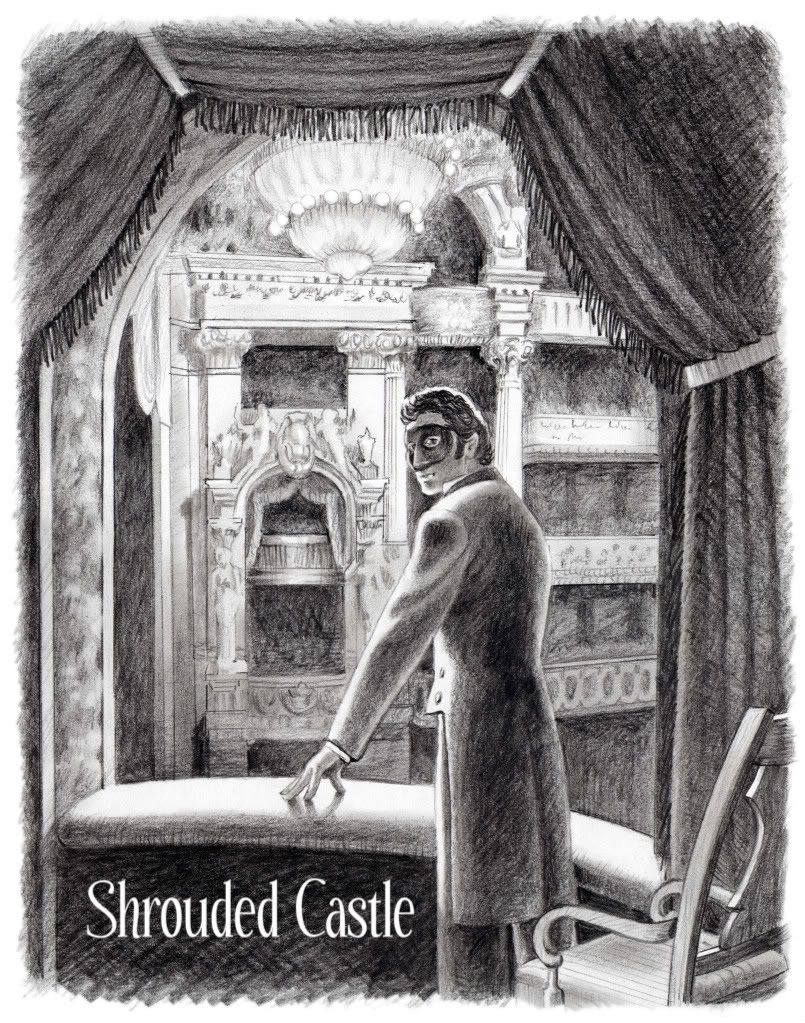 June 16th 2010
To all the fans of Through Phantom Eyes that plan to attend the California State Fair this summer, I am happy to announce that Ms. Bruns will once again be featured at the fair!
She will be among the authors featured with the NCAAP and will be there on hand to meet the fans and personally sign her novels, including her award winning third volume, Mon Ami. Her appearance dates are as follows…
Monday July 19th 2pm - 10pm
Thursday July 22nd 12pm -5pm
Monday July 26th 12pm – 8pm
&
Saturday July 31st 12pm – 8pm
Mention that you come from Dangerously Curved and receive a FREE gift!
May 10th 2010
Sunday May 9th Ms. Bruns attended a concert performed by Brad Little, the man whose portrayal of The Phantom inspired the Through Phantom Eyes novels we have all come to love so much. Below is the reunion caught on film as Theodora presents Brad with his own copy of the award winning Mon Ami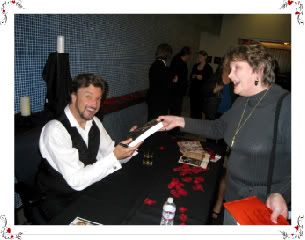 May 1st 2010
I am very happy to announce that Volume Three, Mon Ami, has received the highest honor given by the NCAAP (Northern California Association of Authors & Publishers)
The Best in Fiction Award!
Congratulations go out to Ms. Bruns as we anxiously await the arrival of Volume Four, Shrouded Castle!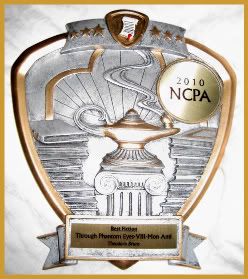 March 1st 2010
Today I am excited to announce the release of the PRE-trailer for the Through Phantom Eyes series.

We are currently working on full trailers for each volume but here is a little taste of what's to come.

WATCH ME!
January 13th 2010
I am very excited to announce that I now have Mon Ami IN stock! Click on the photo above to order yours now and save 10%
December 1st 2009
Mon Ami has been sent to print! I am VERY happy to announce that I will be posting pre-order auctions here shortly. Dangerously_Curved is the ONLY place in the eBay universe where you can find your advance copy of Through Phantom Eyes : Mon Ami! I know I speak for myself and my fellow addicts of TPE when I say we are more than excited for this new release!
November 7th 2009
Ms. Bruns was the guest of honor on blogtalkradio.com today as interest is spreading like wildfire for the Through Phantom Eyes series. Vicki and Teresa spoke with Theodora for a full hour on All Things Phantom. Theodora spoke of her inspirations to write about Erik's life, her personal transformation thanks to Erik's story, exciting details about her upcoming volume, Mon Ami, and lots of teasers for the volumes to come!
Click HERE to listen to the interview
September 3rd 2009
Through Phantom Eyes – Mon Ami and been awarded its publishers Editor's Choice Award! A first for the TPE series. Everyone involved is more than excited for Mon Ami's release and the impact it will have. Congratulations to Ms. Bruns for this honor!
September 1st 2009
Ms. Bruns will be featured at The California State Fair in Sacramento this week. She will be available to meet and sign your books on 9/3 from 12-5pm, 9/5 from 10-5pm & Labor Day 9/7 from 10-5pm. If you're visiting the fair be sure to come by and see us!
August 15th 2009
Volume Three entitled, Mon Ami, has been sent to publication and will be released soon! I am very excited to have available this next volume. Any information on book signings and appearances can be found on this page and are updated daily.
August 1st 2009
Volumes 1 & 2 are now on sale in my store. Click the photo above to Buy Now
A History
Theodora Bruns began writing Through Phantom Eyes in 2002. She had never published a novel before or filled her days writing fanciful stories for publication. She didn't write as a child, a teenager or a young adult, rather she spent her years in the most admirable profession there is…being a mother.
After raising her five girls, two of them to become part of the eBay selling elite (wink wink) her health required her to retire from the working world. In 2002 she attended a performance of Sir Andrew Lloyd Webber's The Phantom of the Opera in her home town of Sacramento CA and not to put too fine a point on it, but the rest is, well, making history.
Ms Bruns' passion, empathy, sorrow and love for the title character, Erik, being performed by renowned Broadway star Brad Little, moved her in quite literally a life changing way. Mr. Little's passionate portrayal of the love-starved, broken and battered, hot blooded musical genius awakened Ms. Bruns' heart to emotions, thoughts and sensations never before experienced in her young 60 plus years.
Fascination with Erik and what kind of man he must have been consumed her life. Feeling heartbroken at the end of ALW's musical, as most of us fans do, she become infatuated with giving Erik a better ending, a less tragic finale to an already tragic existence.
Theodora began putting to paper the scribbling and sketches, paragraphs and chapter titles, music and moving pictures, characters and dialogue that were consuming her thoughts. So much so that she began sleeping with a notepad and pen next to her bed at night as the theatrical ideas bubbled forth almost constantly.
In these humble beginnings sprouted a novel, soon to be split into 8 volumes, that would change the way the world viewed this enigmatic character of fiction, nonfiction and fantasy, this man who was cursed not only by a horrendous birth defect but by a genius mind in everything from mathematics to architecture, from the realm of illusion and magic to his greatest passion…music.
Ms Bruns has brought Erik back to life in a way never before attempted, a resurrection that leaps from the page and will instill in the readers hearts and minds. We fall in love with baby Erik, a precocious little boy who loves music, inventing, building, his animal friends and most of all, his father. We watch him struggle against a world that is not ready for his brilliance, not prepared for his deformity, and not worthy of his outstanding gifts.
We readers of the female persuasion begin to fall in love with the man Erik becomes, with his tall, trim stature, his mysterious eyes and his honeycombed voice. Our hearts race as he fights the injustice, the cruelty, and man's inhumanity to man but is always championed by the simple beauty of being alive. We laugh with him, we weep with him, we grow with him, we bleed with him, and we love with him. Our eyes are opened into a world never before explored in this way. Opened to what the human spirit can achieve against all odds. Opened to how the heart, no matter how battered and torn apart, a spirit crushed and broken has the capacity to love, forgive and live!
Our lives are opened to a world seen…
Through Phantom Eyes
Share Your Thoughts
"I have read both volumes, 1&2, which were amazing. :) I have to start out by saying that this series is my favorite adaptation of Erik's life I have read yet! I feel as though I am right there with him, every step he takes. Ms. Bruns can perfectly capture the softer side of Erik's personality while most other versions don't, and that's what sets this series apart. It's nice to know I'm not the only one that questioned how and why Erik became the The Phantom. And as a firm believer that Erik did exist, it defiantly quenched my thirst for the gaps in Leroux's novel. I can't wait for Mon Ami's arrival at my doorstep! I look forward to see how Ms. Bruns portray the Persian, Raoul, and especially Christine who I think deserves to be portrayed better than a whiney little girl. And I must certainly agree that Erik deserves his own happy ending, which I can't wait to read about when the final volumes are released!
Faithful Reader, Lauren McDonald"
Thank you for your thoughts Lauren, I agree with you completely!
~~~~~
Share your thoughts and experiences with Through Phantom Eyes
Email Kelli directly with your comments