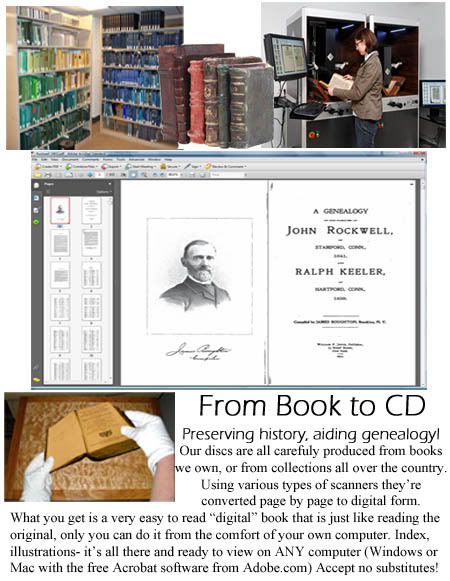 About our genealogical items:
County History: Our county histories are the key to any genealogy research. They may not only provide information about your ancestor by name, but are full of stories and accounts of their neighbors, friends, family, the life they lived and the place they called home so long ago. Plus, we offer only the oldest county histories available, some dating back to the 1700's. This is important because they give first hand accounts from the eyes of the people who actually lived near your ancestors!
Vital Records: Gleaned from various sources, these give information about everything from birth to death and the events in between. Collecting lists of records from the counties your family lived in is essential to refer back to later when you make even more genealogical connections to those you never knew you were related to!
Census Records: Snapshots in time, the census was hand written on your ancestor's doorstep every 10 years from 1790 to modern times. (Nothing more recent than 1940 is currently available to the public.) These records are by far the most important and you should try and find every one of your ancestors in all the census years they were around for.
Our cd's: Most of our genealogical material comes on computer cd-rom in .pdf format. All you need to use them is a computer with the free Adobe Acrobat Reader software, which is available for Windows or Mac. Please download the latest version at Adobe.com.
Payment: We currently accept only Paypal. Signing up is easy and allows you to use various forms of payment securely.
Shipping: Soon- all shipping will be FREE! We are professional genealogists who spend a great deal of time looking for records, so sometimes orders can be a bit slow. But we try to get them right out. Please allow up to two weeks. If it doesn't arrive, contact us BEFORE leaving feedback so we can fix it.
Copyright Law: All of our materials are produced according to US copyright law and we zealously protect our rights. Please respect the laws or you may face legal action.
Feedback: Ebay requires all sellers to maintain a nearly perfect feedback record, with FIVE FULL STARS. Please be generous so we can stay in business. If you have ANY problem, let us fix it BEFORE you leave feedback so both of us can enjoy a great feedback record!
Below are some of our most popular collections on CD…