Luxury Bazaar

Maintained by: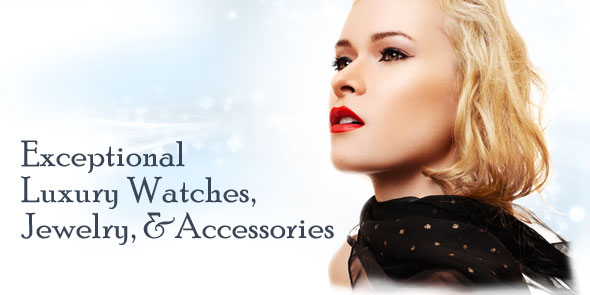 Watches: Since we are not an authorized dealer of any of the watches we sell, the manufacturers will not honor warranties on watches bought through us. However, Luxury Bazaar provides each buyer with an equivalent warranty that mirrors the manufacturer's one-to-one.

In the unlikely event that something does go wrong with your watch within 2 years of the date of purchase, the watch would need to be sent back to us. Our highly qualified, professional watchmakers serve as authorized repair centers for many high-end watch manufacturers, and can repair virtually any watch using only genuine parts. However, if the defect is of a particularly serious nature, we will have the watch returned to the respective manufacturer for repair, though these manufacturers unfortunately take a minimum of 4-8 weeks to repair a watch (or longer, if parts are back ordered).

Jewelry: In the unlikely event that part of your jewelry breaks within 2 years of the date of purchase, you can send it back to us and our qualified jewelers will repair the piece and get it back to you, usually within 10 days. Our Limited Warranty for Watches and Jewelry: The Luxury Bazaar warranty covers all new watches and jewelry for the period of two years from the date of purchase.

The warranty covers manufacturing defects only.

The warranty does not cover damages such as scratches, finish, crystals, glass, Straps – leather, fabric or rubber, damage due to wear and tear, damage resulting from wear under conditions exceeding the watch manufacturer's water resistance limitations, and damage due to physical and/or accidental abuse.

All warranty repairs must be handled directly through Luxury Bazaar. Watches opened or repaired by any other source will void all warranties. Luxury Bazaar will cover all parts and labor or replace the watch at our discretion within the warranty period.

Shipping and insurance costs for warranty returns to us must be covered by the customer. Returns must be shipped via traceable courier, such as UPS or USPS (do not ship via FedEx; FedEx does not insure watches or jewelry valued above $500). Return shipment must be pre-paid and fully insured. Collect shipping will be refused. In case of loss or damages, customer is liable. Return shipping expenses to the customer once the watch is repaired will be covered by Luxury Bazaar.

In case a repair is necessary, please call us to obtain a return authorization number. All warranty returns must have a Return Authorization Number (RA). This number must be displayed on the outside of the box. A watch returned without authorization will be refused. Please include a copy of your invoice and/or a detailed letter indicating the problem, the return address, contact phone numbers and an email address.
We will ship anywhere in the world with any of the world's trusted carriers like FedEx, UPS, DHL, EMS, TNT, and the USPS. Decisions will be based on where the package is going and how large it is.

Everything that leaves our store is fully insured against loss, theft and damage during its transit so you can rest easy knowing that your investment is protected. All of our packages in insured by an independent third party insurance company. Obviously, some of the time an item will exceed the limits of the insurance policy. In such cases, we will use armored services such as Brinks, Malca Amit, and Ferrari Express to get your package to you on time and in immaculate condition. Again, charges for these services will apply and will be provided at the time of purchase.

If personal delivery is something that you might be interested in, it involves the fewest people between you and our warehouse and might be the most secure means of getting the piece to you. We have a full time staff member on who does just this and will deliver your product to you personally. They are ready to travel nearly anywhere in the world to deliver your purchase. If you would like this service, let us know and the charges will be discussed and applied at the time of purchase.

Please note that due to the nature of our products and their value, every single one of the packages we send out will need an adult signature at the time of delivery. For insurance reasons, we are not able to ship our products if there isn't an adult available to sign for the package upon delivery.

Shipping to an address other than the billing address when paying with a Credit Card:

Because of the heightened risk of fraud associated with shipping luxury products, LuxuryBazaar.com prefers to ship items to the billing addresses of their purchasers. We do, however, realize that there is often a desire to have the item shipped to an alternate address. If you would like that a package be shipped to an address other than your billing address, we ask that you contact your credit card company and have them add an "Alternate Shipping Address" to your account with them. It is a very simple and routine process that shouldn't take longer than a few minutes to complete. In turn, it adds a level of security to your purchase that simply isn't worth overlooking.

Simply call the phone number on the back of your credit card and when you're talking to a real person, ask that they add an "Alternate Shipping Address to File". Get them to add the address you would like to have the product shipped to. This extra five-minute security procedure will ensure that both you and we are protected from potential fraudulent orders by letting Luxury Bazaar know that the cardholder has authorized us to send the product to an address other than the billing address on the credit card's account.

If, of course, all of this is a little too much to put into your purchase, please feel free to come and pick it up in person. Just make sure you show up during our normal business hours.

Duty - Most international orders are subject to customs duty and tax regulations specified by the designated country, and are the sole responsibility of the customer. You may contact your local customs office for details. The average international order takes up to one week for delivery. Oversize and/or high value orders may require additional shipping charges.
We prescribe to a "No Questions Asked" return policy for all in stock items. This does not apply to items that are on memo, or special and/or custom orders. If for any reason whatsoever you are not 100% satisfied with your purchase, send it back and we will refund your order. The only fees you will be responsible for are return shipping costs, and for international customers, any duties or value added taxes.

Returns must be made within seven days of you receiving the product.

All returns must also have a Return Authorization (RA) number. As such, to get an RA number, you'll need to get in touch with us prior to shipping it back. This number must be displayed on the outside of your box and will expedite the process. As much as we like getting gifts, any returns without an RA number will be returned to the sender.

If you are planning on returning an item to us, it must be returned in its original box and with everything it came with.

Returns will be credited in full minus the price of the original shipping costs and the costs associated with insuring your purchase.

Credit will be issued in the same form that your payment was made. We cannot refund you cash for a purchase you made with a credit card.

We expect the same level of security and shipping when you are getting the package back to us. All returns must be shipped with a traceable courier such as UPS or USPS. Do not ship via FedEx, as FedEx does not insure watches or jewelry valued above $500. Return shipment must be pre-paid and fully insured for the amount you expect credit. Collect shipping will be refused. In case of a loss or damage, customer is liable.

Once you have received an RA number, the item must be shipped to us so that we receive it with 7 days. In addition to the above, the following must be taken into account depending on what you purchased from us and want to return.

Watches:

Watches must be returned in the original condition, with all protective plastics/tape and hang tags intact, all accessories, boxes and papers. Until you are positive you will be keeping the watch, kindly refrain from wearing it. It is almost impossible to wear a watch for even a day and for the watch not be blemished or scratched. Please do not have the bracelet sized (links removed), or any straps cut. Please note that some watches are on memo from other dealers and do not carry a return policy, you will notified before your purchase if the selected watch meets this criteria.

Jewelry:

All jewelry must be returned to us in the original condition, with all the original boxes, papers, tags etc. Resizing of Rings, Bracelets, and Necklaces done by the customer voids the return policy.

Art and Antiques:

All artwork and antiques must be returned in the condition it was received. If a specialized carrier was used to deliver the item to you in a case of a return you must use the same carrier for returns.

Special Orders:

We will gladly assist in providing special orders of items that we may not currently have in stock. Due to the specialized nature, special order items are not subject to the standard return policy. If your item is a special order item, we will notify you at the time of purchase. This mostly applies to Watches and Brand Name jewelry that is not in stock and has to be ordered.

Purchases by Manufacturers:

Our return policy does not apply to any purchases made by any watch manufacturer, watch brand distributors, and/or any person acting on behalf of any of these entities in any capacity. Purchases made by the aforementioned entities may not be returned for any reason under any circumstances.

We believe that the conditions laid out here are very reasonable, fair and simple to adhere to. If for any reason any of these conditions can't be met, please get in touch with us as soon as possible. We are very reasonable people and are willing to listen to what you have to say, but you simply must give us a call and receive authorization before you put the product in the mail.
Payment Option
Description



Selecting this method will allow you to checkout & pay via your PayPal account. Please note that this method is limited to $10,000. We accept PayPal only from confirmed members and delivery must be to a confirmed address. Selecting this method will take you to a separate independent checkout process, which is completely run & operated by PayPal. This process is secure & guaranteed by PayPal.

Please Note:

Once you are finished you will receive an authorization/order confirmation number from PayPal please copy that number as you will need to enter it on the next page to complete your check out with us.

Learn More...


Click here to view our terms and conditions

Please take some time to read the full terms and conditions for LuxuryBazaar.net. If you have any questions or concerns about our terms and conditions please feel free to contact us.
Price Points
Categories

About us
Welcome to Luxury Bazaar, a place where nothing is ordinary™. We are the ultimate online portal for luxurious, high-end watches, jewelry, and accessories with a specialization in high-end time pieces. We have some of the finest brands on the market, and we pride ourselves in our ability to deliver the most excellent and rare pieces with competitive pricing which others cannot offer.

Here at Luxury Bazaar we believe that what we are doing is extraordinary. We feel that listing high-end pieces is easy enough, but to sell these products is another story altogether. Since our founding, we have been building trust with new and existing customers by ensuring that transactions with us go through smoothly, discreetly, and completely to the customer's satisfaction.
Affiliations