Who We Are: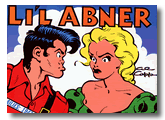 Krupp's Curio Shoppe is owned by Denis Kitchen Publishing Co., LLC and is maganged by wife and business parter Stacey Kitchen. We sell professionally as krupp_comix and personally as shmoozer on eBay.



Our former entity, Kitchen Sink Press, was in business 30 years. We reinvented ourself as Denis Kitchen Publishinc Company in 2000, specializing in quality products from comic legends. Under the DKP umbrella, we have two sister companies: Denis Kitchen Art Agency, selling blue-chip ORIGINAL COMIC ART from such masters as Will Eisner and Harvey Kurtzman - and - Steve Krupp's Curio Shoppe, which retails really cool comic book merchandise from R. Crumb, Bushmiller, Al Capp, Kitchen Sink Press, and others.
What We Do: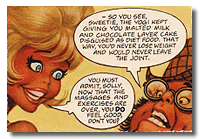 Steve Krupp's Curio Shoppe is the place to go shopping for top of the line Original Cartoon Art and Comic Book Sequential Strip Art work, out-of-print Comic Books and Graphic Novels, and related comic book and Underground Comix merchandise: High End Serigraphs / Lithographs, Trading Cards, Posters, Buttons & Pins, Postcards, LP Record Albums and Vintage Catalogs & Zines. See our Newest Additions Section for the most recent inventory updates.
Additionally, our Curio Shoppe offers an enticing variety of out-of-print
and rare comic strip collections (such as Al Capp's Li'l Abner) and graphic novels (including deluxe signed editions), vintage underground comix and very hard-to-find underground newspapers (many with comix covers).
You'll find out-of-print cartoon postcards, a large selection of rare pinback buttons (all comix-related). Buy distinctive Nancy & Sluggo neckties, rare early R. Crumb posters and buttons, Mr. Natural statues and fine art silkscreens plus other Pop Culture and counter cultural esoterica.
We specialize in character merchandise such as Harvey Kurtzman's Little Annie Fannie, Will Eisner's The Spirit, R. Crumb's Mr. Natural and Devil Girl, Al Capp's Little Abner and The Shmoo, and other Kitchen Sink Press titles.
We also have a fine selection of comic merchandise by R. Crumb, Ernie Bushmiller, James O'Barr, Harvey Kurtzman, plus Frank Stack, Jack Jackson and other highly respected cartoonists.


What Else Should You Know:

More on our founder:
Cartoonist, writer, editor, publisher and entrepreneur DENIS KITCHEN began his professional career in 1968, creating Mom's Homemade Comics as a self-published underground cartoonist in Milwaukee WI. The success of this venture led in 1969 to his formation of Krupp Comic Works, Inc., a small hippie empire which encompassed: Kitchen Sink Press, the comix publishing company; Strickly Uppa Crust, a head shop; The Cartoon Factory, a commercial art studio; Ordinary Records; Krupp Mail Order and Krupp Distribution. In 1970 he separately co-founded The Bugle-American, a Wisconsin-based alternative weekly newspaper that lasted seven years. In 1976 he co-founded The Fox River Patriot, a weekly alternative rural newspaper. But Kitchen's main focus over three decades was publishing comics and books.
As a Publisher: For thirty years (1969-1999) Kitchen published a variety of classic and underground artists alike. Among the highlights: Will Eisner (twenty graphic novels, over a hundred Spirit comics, Will Eisner Quarterly), Harvey Kurtzman (Jungle Book, Hey Look!, Goodman Beaver, with Will Elder, and others), Milton Caniff (Male Call, two volumes of Terry & the Pirates, twenty-four volumes of Steve Canyon), Al Capp (twenty-seven hard and softcover volumes of Li'l Abner), George Herriman (two volumes of Krazy Kat), R. Crumb (The R. Crumb Coffee Table Art Book, Kafka, Carload o' Comics, Waiting For Food, and other books, comix and merchandise), Jack Jackson (Secret of San Saba, Lost Cause), R.F. Outcault (Yellow Kid), Scott McCloud (Understanding Comics, three volumes of Zot!), V.T. Hamlin (three volumes of Alley Oop), Alex Raymond (six volumes of Flash Gordon, Secret Agent X-9), Dave McKean (Violent Cases with Neil Gaiman, and Cages), Art Spiegelman (various undergrounds), Cliff Sterrett (two volumes of Polly & Her Pals), Reed Waller & Kate Worley (over twenty comix and five collections of Omaha the Cat Dancer), James Vance & Dan Burr (Kings in Disguise, Owlhoots), Mark Schultz (Xenozoic Tales/Cadillacs & Dinosaurs), Bill Sienkiewicz (Voodoo Child), Alan Moore and Eddie Campbell (From Hell) Howard Cruse (Gay Comix, Barefootz, Dancin' Nekkid with the Angels), Frank Frazetta (Small Wonders, Pillow Book), Joe Shuster & Jerry Siegel (four volumes of Superman strips), Bob Kane (four volumes of Batman strips), Joe Matt (Peep Show), and Charles Burns (Molemen, Blood Club, Sketchbook, Black Hole 1-4). He also published numerous anthologies including Blab 1-8, Snarf 1-15, Dope Comix 1-5, Bizarre Sex 1-10, Twist 1-3, Buzz 1-3, Twisted Sisters 1-3, Blue Loco, Mona and others; plus histories such as the 2-volume Comic Strip Century. Additional comic books, magazines and graphic novels are too extensive to list here. A 1994 illustrated history, Kitchen Sink Press: The First 25 Years, by Dave Schreiner, provides the best primer to this era.
Awards: Kitchen Sink Press over the years won a disproportionate number of the comics industry's most prestigious awards, sometimes dominating the awards despite a market share hovering around 1%. In 1989 Kitchen Sink Press led all publishers with 13 Eisner nominations, edging giant DC Comics, with eleven. In 1993 Kitchen Sink won six Harveys, more than any other company and nearly 40% of the total awarded. In 1994 Kitchen Sink won five Harveys and two Eisners. The company won another five Eisners and Harveys combined in 1995. In 1997 Chris Staros (now heading Top Shelf) surveyed the entire field of comics for his independent Staros Report. The issue cited numerous KSP publications for outstanding merit and concluded by presenting Kitchen Sink Press with its first and only Best Publisher Award.
Since 1990, a separate entity, Denis Kitchen Art Agency (www.deniskitchenartagency.com) has been exclusively selling original cartoon art for clients such as Will Eisner, and both selling art for and representing the Harvey Kurtzman estate, the Russell Keaton estate and Peter Poplaski, as well as representing Capp Enterprises, Inc., among others.
Kitchen still publishes a small number of new books each year as a sideline, under the imprint Denis Kitchen Publishing Co. Recent DKP titles by Kurtzman and Crumb and sneak previews of upcoming books can be viewed at www.deniskitchenpublishing.com.