Bebe Clothing Size Guide and Glossary Terms
At Dream-Adventures we carry a large amount of Bebe clothing including Bebe jeans, Bebe dresses, Bebe bottoms and tops and Bebe accessories.
Bebe clothing has a specialized fit, and the clothing is meant to be form fitting. You will find fabrics designed with stretch in mind, fitting the body for a sexy and flattering look. We have some guidelines below for you to use when you are shopping for Bebe. These are guidelines only, and each garment is individual.
When you measure your body, use a fabric tape measure for the most accurate reading. Some important areas to measure are:
Bust: Measure the fullest part of the chest, with the tape loose

Waist: Measure the area where your waist is naturally; you can find this by bending to one side and taking note of where your waist creases

Hips: With feet together, and about 7-8" below your waist, measure the fullest area of your hips

Pant rise: On a pair of pants you own, measure from the top of the waist to the base of the crotch seam

Pant inseam: Measure from the bottom of a pair of pants you own up to the crotch seam. This is the inseam length.
The general size chart for Bebe clothing is shown here, as originally shown on the Bebe website:

Bebe jeans, or Bebe denim as it is called, is available in sizes 21-34 typically. It is slim fitting through the thigh. You can use this picture as a guide for where to measure your body for Bebe denim: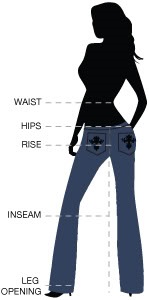 Bebe skirts and pants come in sizes ranging from XXS to Large and 00-10. Below is a size guide for Bebe bottoms: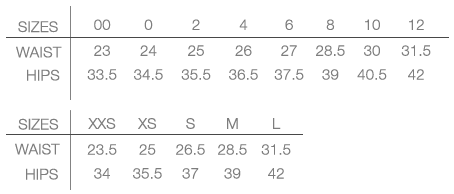 Bebe dresses and tops come in sizes from 00-10 and XXS to Large as well as the size P/S and M/L. This can be a little confusing, but if you keep in mind the measurements you have of your body, the size guide below should assist you, as well as the diagram of where to measure for Bebe dresses and tops.
Are you an International customer and trying to figue out what size you may take in Bebe? To give you an idea, here is the official
Bebe Conversion Chart: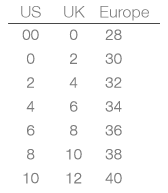 When we list Bebe clothing items for sale, we always include that garment's exact measurements. We've created this short video for you that explains exactly how we measure:
Bebe Glossary of Fashion Terms
We've compiled a list of frequently used terms that you may find of assistance as you shop for clothing at Dream-Adventures.
A Line Dress: Form-fitting body with a flare from the waistline to the bottom of the full skirt
Baby Doll Dress: A dress whose hem ends just below the hip, it is shorter than a chemise.
Back Rise: Used when measuring for pants, it is the distance from the crotch to the top of the waistband.
Bias Cut: A slanted cut , often seen on silky fabrics because it keeps the fabrics from twisting and drooping and gives more wearability.
Bodice: The upper portion of a dress or top
Bootcut: Pant's hem that is wide enough to be worn on the outside of boots. There is a slight flare from the knee to the hem.
Bustier: Kind of like a corset, it cinches the waist and acts as a bra as well. You may have heard this also called a Merry Widow. It can be strapless or have straps.
Camisole/Cami: A fitted top with spaghetti straps that can be worn as a layering piece or alone.
Cap Sleeve: Shorter than short sleeves, it provides limited coverage of the arm.
Capri: In pants, a 3/4 length inseam that falls around the midpoint of the calf.
Charmeuse: A type of fabric that is soft and drapey. It is smooth and has a semi shiny satin face; it can be made of different materials including cotton, rayon, silk or blends.
Chiffon: A light and thin fabric that is a woven.
Corset: A strapless bodice that can lace or snap closed. There is usually boning inside to help keep the shape. It is close fitting.
Crepe: A fabric that has a crinkled or puckery surface; it comes in different thicknesses.
Crew Neck: Neckline that is round and fits close to the base of the neck.
Crop Pant: Longer than capri pants, they hit above the ankles.
Dip Dyed: Usually a two toned (or more) piece of clothing, it is achieved by dipping the fabric in different dyes.
Distressed: Denim that shows wear and fading and shreds
Dolman Sleeve: This style has a wide armhole that goes from the waist to the wrist; it is also called a bat wing sleeve.
Empire Waist: Waistline beginning just below the bustline.
Faux: A fancy word for fake.
Front Rise: In pants, the measurement from the crotch seam to the top of the waistband.
Halter: A shirt that has a tie or wrap neckline and typically no back.
Inseam: The inside seam of a pantleg.
Lurex: A type of yarn with metallic layers to it.
Modal Jersey: A fabric that is smooth and holds it's shape well even when wet. It is durable and soft.
Ombre: Shading of one color tone from light to dark, blending the colors together as they meet.
Paillette: Small round disc, usually metallic, that is sewn onto fabric as an embellisment. Can create a fishscale look.
Peasant Top: A flowy style shirt, with a low neckline and sometimes ruffles.
Pencil Skirt: A straight cut skirt.
Pintuck: Sewn down small pleats, usually on the front of a shirt or dress.
Pointelle: An open stitch usually in the shape of a V or diamond.
Ruching: Pleating or shirring of fabric for a textured look, or applied ribbon or trim in the same fashion.
Shawl Collar: A 1 piece collar that folds down and forms a continuous line around the back of the neck to the front.
Shelf Bra: A built in bra in a top or dress with light support.
Shrug: A waist length or shorter jacket.
Straight Legs: Pants with a cut that is equal in width from the ankles up to the waist.
Tunic: A slip on shirt that is usually as long as the hips or longer.
Velour: Soft velvetty fabric used in comfy items like warm up suits and shirts as well as coats.
Velvet: Sort thick fabric that has a woven pile to it.
Wide Legs: Pants with a cut that is extra full through the legs with a leg opening that is wider.
We hope these terms help you better understand Bebe clothing; keep in mind that these terms are universal to fashion and can be applied to any clothing brand.
We invite you to check out our complete line of Bebe clothing, as well as all of our Designer Clothing found at Dream-Adventures!