Testimonials Model Ships, Sailboats & Half Hull Models
Captain Jim. We are delighted with the Le Superbe model that you sent us recently. The detail and workmanship are amazing, and it arrived intact and in perfect condition at our recently completed Shipwreck Museum in the Dominican Republic. Of course, this model ship isn't a "wreck," but since it is a close copy of the ship we recently recovered (Le Scipion), we use it to show what the ship looked like before it met it's demise in Samana Bay in 1782. Thanks again for your assistance and for the great communication. It has been a pleasure doing business with you.

http://www.alldeepblue.com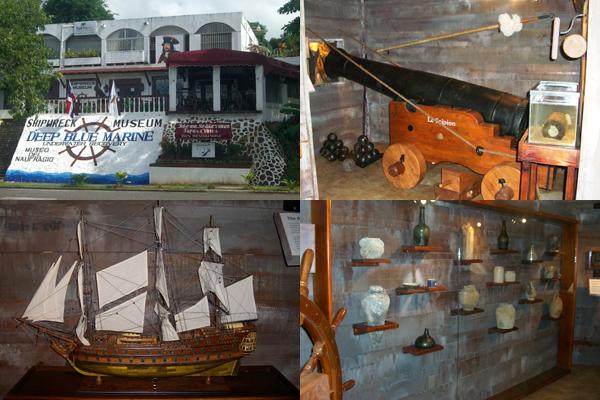 Hi There Capt. Jim!
I received the USS Constitution earlier this week. I wanted to let you know that I am totally AMAZED at how absolutely beautiful it is!!!!! I have been bragging to everyone about what a nice product you have sold to me! It took me so long to decide whether to order this Christmas gift, and also who to order it from...and I am so happy that I decided to order it from you! You have more than exceeded my expectations!
I plan to go onto EBay and rate you to add to your already high rating. And so that you know, this is my first experience with buying anything from EBay (I am not an internet shopper at all). You have made my first buying experience a very positive one!
Thanks again! Maria
Attached are the photos of a canoe we purchased from you for my parents lake home in Alexander City, Alabama. They absolutely Love the canoe. The canoe was mounted to their fireplace with a special black angled bracket. The bracket utilized the screw holes that the canoe already had to connect the seat of the canoe. They just inserted longer screws through the existing holes and that was all that was necessary to hang the canoe on the rock fireplace.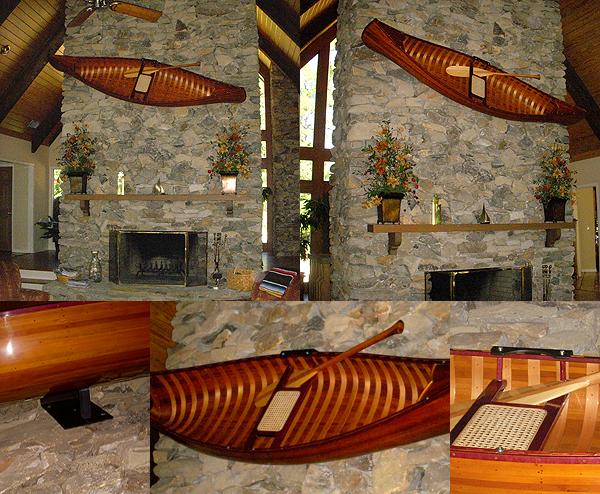 The ship is absolutely beautiful! Fine craftmanship using different woods and tiny details with very elaborate rigging. The packaging is very secure.
Dianna
Capt. Jim---As promised, here are some pictures of my littlest dog, Scruffy, and her new favorite toy! As you can see, Scruffy pretty much has taken ownership of all 3 rope tug toys that I bought from you. She lets the other 4 dogs enjoy them now and then......and as little as she is, she likes the biggest one of the toys best. Since I bought these toys from you, she has not destroyed or chewed anything in the house----and the best part is that after serious chewing, she has barely put a dent in the toys. There are lots of chew/rope toys on the market, but they all fall apart or are eaten (not good for the digestion) within weeks or days.......your toy appears to be quite indestructible!
Jean

Hey Capt, Cocoa says thanks a bunch for sending her out a new toy!!! She was soooo disappointed when the first one broke. She's had this one now for a few days and some of her friends have even played with it and it's still going strong! Thank you so much!
Tina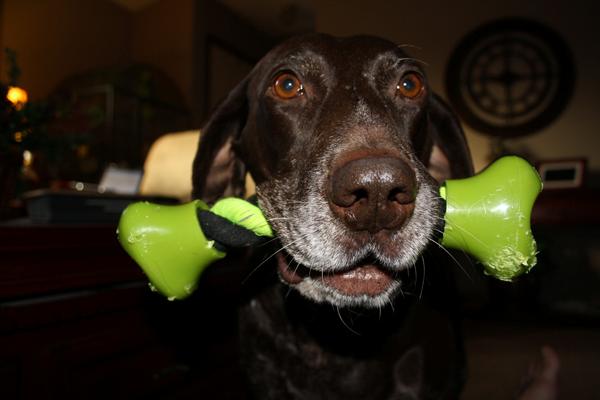 Hi Cap'n
Received Baltimore "Harvey" in good condition 17/2/10. Many thanks. Unfortunately, my ISP has only just connected me back on the internet and Ebay have deleted the transaction from my records, as the sale was in December. So am unable to provide any feedback through ebay..Sorry. Neverthless, I am very satisfied with the transaction.
Thanks again.
Jim

Just wanted to let you know my table arrived today and I just posted five star feedback. I look forward to doing business with you again in the near future and will make every effort to visit your store as soon as possible.
An absolutely perfect transaction that I sincerely appreciate.
All the best to you and your exceptional staff for a job Well Done.



Dick Rogers
San Diego
PS: I assume you are well familiar with the international Call sign for a Job "Well Done - Bravo Zulu!"

Here are a few pictures of A.Handful who loves your dog rope toy!! He still hasn't managed to destroy it yet, yay!!!
Thanks again for a great purchase!!
Chris
ebay id: chrissiescreations

Capt. Jim - -

Purchased the "Spirit of St. Louis" from you off of E-bay and it arrived today.

UN-believable! I have NEVER see a model that looks SO real. I seen and built models, have seen and touched the plane used in the movie (Circa '50's), have seen the plane in the Smithsonian, and own and have seen photos of the plane. I am beyond impressed.

IF, the quality of the "Spirit of St. Louis" is any indication of the other models in the catalogue, then the "C-47" (DC-3) and the "China Clipper" should be spectacular.

The China Clipper model looks to be another stellar piece. I am going to pass on the information to the Alameda Air Museum which has which last November opened a section of their space dedicated to Pan American Airways "China Clipper". Last November was the 75th anniversary of the inaugural flight out of the Alameda Air field, and they launched the the display with much fanfare and participation.

WOW!
CW4 James E. Bundgaard (ret)
AKA: Army Mine Planter.
-LIVING HISTORY-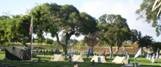 "CAMP PATRIOT"


Capt Jim

Attached are photographs from my redone office of all the half hulls I have collected (5 of 8 from you, 3 older) and the full rigged sailboats that I got from you. Thanks so much for helping me put together my dream "model room". Maybe someday I will rival the NYYC model room in New York City.

Tom Martin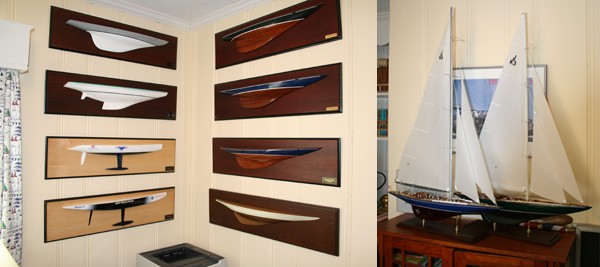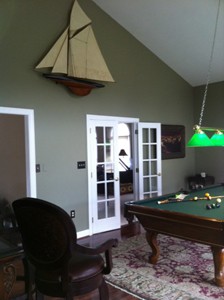 Thankyou again for the boat, it's awesome! It really is perfect, and Excellent quality! Thankyou, Beth