Authentic Models Inc A Company Specializing In Nautical Decor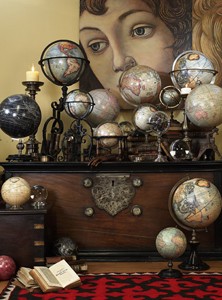 Authentic Models Inc was created more than 40 years ago in Amsterdam, the Netherlands. Authentic Model's expertise and interests go back many centuries. AM's collection of nautical ship models, furniture, artifacts and accessories is inspired by the age of exploration, maritime history, cartography and more… Their never ending quest for unique objects and designs, coupled with their goal to share their stories with a dedicated audience. Now, in the 21st Century Authentic Models is eminently placed to offer its unique collection to the world at large.
Authentic Models Has A Mission
Challenging the mind since 1968. Inspired by the Age of Sail, by exploration, science, and cartography. AM searches the world over to ensure authenticity.
To appeal to the curious and discerning. A focus on both eclectic and aesthetic, AM's products bring history and nostalgia to life. Inseparable from their roots, all come with a story.
To surprise and impress. Value and experience brought to life in a unique collection. Offering individual choice fitting both classic and contemporary. Providing lasting value. True antiques in the making.
Commitment to both quality and intrigue. Furniture, lighting, artifacts, and replicas all made by artisans, using time-honored skills. Design functionality, stories, and unique presentation. Such is our goal… Originality and timelessness are a given.
Authentic Models, founded in Amsterdam, the Netherlands. Since 1968.
Some Of Authentic Models Nautical Collection
1. Nautical Sailboat Model Decor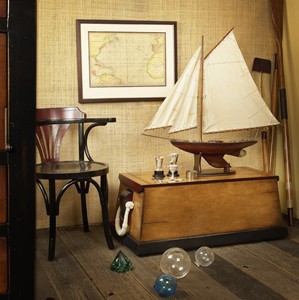 Pond Yacht Models are exact replica's of 1930's Pond Yacht Models, authentic down to the smallest detail. Even including a cast-iron original issue keel ballast weight. The hulls and topside paint have been given an antiqued distressed look that is even more emphasized by visibly rusty nails, brass antique hardware and tea stained cloth sails. Pond Yacht models are available in many sizes from over 5 feet long down to only 20 inches in length.
America's Cup J Class models, some hotel lobby size are all built of wood by the plank on frame method (joining multiple small pieces of wood together on the hull). The cloth sails are hand stiched and detailed.
1930s Classic Yacht models are built to the same high standards as the other sailboat models and hark back to the days of traditional yachting. All of the models are fully assembled and ready for display (not a kit). Most all are shipped with the rigging down to save on shipping charges and prevent damage. It is very easy to raise up the mast, unfurl the sails and adjust the rigging (instructions are included). The rigging attaches with hooks (no knot tying).
2. Nautical Campaign Style Furniture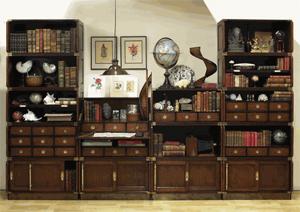 Military Campaign Style Knockdown Furniture is a high quality, exquisitely finished system of stackable units that can be filled and used in different ways. Units can be arranged in single stacks, or to fill an entire wall. They can section off one part of a room, as both front and back are finished. The campaign modular furniture units are made of solid cherry, maple and birch wood. The versatile stackable units are bound by solid brass hardware. Hand finished with a distressed antiqued hand rubbed finish both on the front and back.

There are nautical ship rail handles mounted on each end of the stackable units. The door's unit has a large nautical solid brass ships hand hold handle mounted on the front door and both doors have smaller flush inset brass handles. There are 8 different stackable campaign modular units available including a desk modular unit that flips down to become a writing desk, perfect for a laptop computer.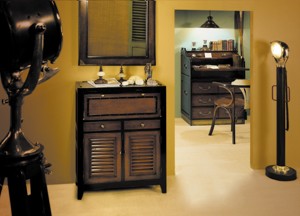 Ship's Lamps & Lanterns by Authentic Models are extraordinary works in tin, copper and brass sheet built by a small team of skilled craftsmen. Am has had a grand and absorbing affair with lamps for years. Their commitment to authenticity has lead to worldwide searches for orginal pieces poring over dozens of maritime auction books. Christie's, Sotheby's, Bonhams. Replicas are made by hand, one by one, duplicating every design and technical detail of the original.

The Ship's Lamps & Lanterns are available in electric, oil & even candles. From the towering destroyer style searchlights to the rugged bronze anchor oil lantern the quality is unsurpassed.
4. Nautical Decorative Boat Oars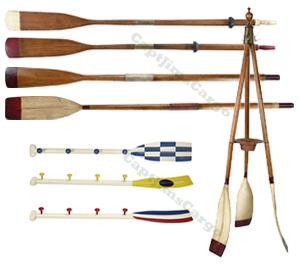 Decorative Boat Oars by Authentic Models make a large statement as nautical home décor pieces, which work in many environments. The oars are available as coat & hat racks for your wall or as stand on their own sturdy coat stands and as purely decorative pieces.

The oar coat racks come in three colorful signal flag designs, or as an exact replica of an Oxford Varsity rowing team oar. The Signal Flag oar coat racks make wonderful kids bedroom or playroom decor.

The wooden replica oars come in 3 sizes & 4 styles and are festive & cool. Place them in your beach house, cottage or on your patio deck. Frame a doorway or place above the kitchen worktop to hang pots and pans. Perhaps even use one for a coveted trophy!