Payment must be sent within 2 days via paypal or first class mail. Thanks!

Testimonials for Auto Express South
Thanks Tom! Enjoyed the whole search/purchase experience. Your firm did a nice job from start to finish. The car is just what you advertised with only pleasant surprises. Found the complete mnx history,(dates, miles, dealer mnx stamps and original owner) buried in the owners manual. The ride home was long. Its hard to smile for 9 hours straight. The car purred like a kitten the entire trip. Even got 19.7 mpg (kept it 75mph). Car is safe and sound in Fort Walton Beach. I am doing a deep detailing and it is really coming to life. The interior really is in incredible shape. So, thanks again. I will let my friends and pilot buddies know the great service that you offer. As I get deeper into the car I may have a question or two, hope you don't mind. A very happy customer Craig
I had a great experience buying a car from Auto Express South. The transaction was easy and the car arrived in perfect condition - exactly how it was represented. Thanks for the great service. I would buy another car from Auto Express South in the future.
My husband and I have had the best experience ever when we met the owners of Auto Express , they are a wonderful family who maintain a wealth of wisdom and are very eager to meet any needs one might have. Their upfront honest way of doing business was impressive and I can't imagine ever going elsewhere when it comes to the purchase of a car. If they don't have an answer, they will follow up and research your questions within hours. So efficient, friendly and just so eager to please without ever being aggressive. Their personalities are addictive and one can't help feeling good whatever decisions have been made. We purchased a 2004 Mercedes CLK 320 Convertible It was impeccably beautiful and the detailing at the time we picked it up was perfect. We dealt with Tom and Scott, you will never be dissapointed, only pleased. -- Ray & Monica
Scott and Tom are a pleasure to work with, straightforward and above board when it comes to auto sales. Negotiating with Tom was friendly and productive. I was expecting the usual dealer mumbo-jumbo about needing this price or having that amount into the car but it was just an honest, personable discussion about what I wished to pay and what they wished to get for the car. The deal was quick, easy, and pleasant. It is obvious they care about reputation and will go out of their way to make sure the customer is not just satisfied but happy with their purchase. I would recommend them heartily to others and would certainly consider them first in the event I wish to purchase another car.
There is NOT enough space here to write the fantastic experience I have had purchasing my used Jaguar from Tom at Auto Express South ( a family owned business). First of all it is awesome to have real people answer the phone each time you call!! I was met with courtesy, respect and the utmost of personal attention!!! Every single question I had was answered thoroughly and professionally!! It felt strange to buy a car from the internet and I was skeptical but AUTO EXPRESS SOUTH changed that! I was met at the airport by Scott in a gorgeous BMW and taken to my home to get my trade in and then to the dealership! WHO DOES THAT for you?? They handled all the paperwork and I drove away in one of their fine vehicles!! I would buy another car from them in a NY minute!!! What a wonderful experience!! I am so grateful for you Tom and Scott!!! Thanks for also offering to fix my door handle even though it is not under warranty!! YOU ARE AMAZING!!!!!!!!!!!!
Without question the nicest place to purchase your automobile. Tom and Scott are both knowledgable, friendly, and strive to give the best customer service around. Would not hesitate to recommend Auto Express South to family and friends knowing they will be treated right. Took delivery of my 2001 CLK 320 and it was immaculate !!!!! Love the car and will in all likely-hood be back for my next one !!!!!!!! Thanks guys !!!!
I enjoyed my car buying experience with Auto Express South, I drove over 400 miles and when I arrived the car was in pristine condition just as described. The deal was fast and hassle free. Thanks for putting me in my Jaguar XK8, I will definitely be a returning customer !
I want to say thank you to the guys at Auto Express South for such a pleasant car buying experience. I usually dread this task for a multitude of reasons, but I must say there was no pressure, everything was done in a timely manner, very professional and courteous and then there is the car..........Mint and I do mean Mint! A real beauty, immaculate inside and out, ran smooth and quiet. What a nice ride home across the state! I plan to do business with them again in the future and will recommend them to friends and family who are looking for a quality car at a fair price. Thanks again, Tom and Scott O'Neil & Tom Kraus
Tom: The Sebring arrived today - it looks great - just as you described. I drove it for a short distance and everything was OK. I am going to have it looked over by my mechanic - just for my own piece of mind but I do not expect there to be any issues. I also received the title in the mail so I will begin that process as well. Thank you again.
Ok, here's the 411 on this super nice Ford E150 Conversion Van that I purchased at "Auto Express South" But first I have to mention that I've been searching for a conversion van for the passed 3 months until I came upon a picture of this van listed on Craig's list, then clicked on the link, and I knew right away, that I didn't need to search any further. Just one look at the inventory of Auto Express South, I knew that I was dealing with a company that sold only high end, high quality used vehicles, for a very reasonable price. Once I took possession of this van, I just couldn't stop driving it for well over an hour and half. The vehicle drove so well without a rattle, loose screw or loose mirrors, and the interior was almost sound proof from the streets. The motor had no shaking or vibration while standing at a red light, and idled perfectly. The interior is beautiful and is in perfect condition. The air conditioning system was so cold; I had to turn it off because I was freezing. The vehicle didn't shimmy after I let loose my grip of the steering wheel on the highway and remained in my lane for good 3 tenths of a mile. The engine is super clean, and the transmission shifts perfectly. The vehicle drove just as good as any Lincoln SUV, I couldn't be happier, and I can't believe what I got for my money. I would also like to thank Scott and the crew at "Auto Express South" for their professionalism, and friendly atmosphere which I have experienced while doing business at their establishment. If anyone reads this, I'm telling you that you won't go wrong with any of these high end, high quality vehicles sold at "Auto Express South" Look at my Van, and eat your hearts out! I'm so happy. Thanks "Auto Express South"
Tom with Jim and Phyllis right after the delivery of thier beautiful 2004 Mercedes SL500!! Thank you for your business and we look forward to seeing you again for service and future sales!
The car arrived as described - very happy with the condition of the car. Auto Express South was very accommodating. Got the paperwork out to us ASAP and called to check on the shipping progress of the vehicle. Would purchase from them again!! Thanks! Carrie
Dr Camargo and I(Tom) after the purchase of his 1998 Mercedes SLK230 with only 28k original miles. Dr Camargo drove 200 miles to buy this vehicle for his daughter. Enjoy your beautiful SLK!
eBay Feedback: Good transaction, Tom have always been there to help me, beautiful car.
We picked Ralph up from the airport and he drove his new CTS home to Tennesse. He gave us double thumbs up approval! Thanks Ralph!!!!
Tom, Just a quick note to tell you how pleased we are with our 2004 Mercedes CLK320. It was well worth our trip down to look at all the beautiful cars you have to offer. We came to look at one specific car but when we got there and saw the number, various models and quality of the cars you have to offer we ended up purchasing a totally different car than we had planned. All the makes and models made the "one stop shopping" a reality. Your willingness to work with us made the entire process quite easy and the prices were very reasonable. Thanks for making buying a used car such an easy and an enjoyable process. -Rob and Mary Bard
Damon and Scott in front of his new Porsche. Thank you for your business and enjoy your beautiful Boxster S!
eBay Feedback: Tom is a great guy to deal with.
Scott (middle) with John and has son Jay after the purchase of our 2004 Mercedes CLK320 with the incredibly rare Designo package for his Florida home. Thanks for the business!
James standing with Tom Kraus in front of his beautiful Porsche Cayenne Turbo at Auto Express South!
For over a year I struggled and searched for a vehicle. Dealt with countless dealerships who never provided the customer service that Tom and Scott have for my 2002 Chevrolet Silverado 2500hd. Paperwork was overnighted, there was constant detailed and descriptive communication, and they helped me through every step of the buying process with them. I recommend them with the highest regards and would gladly do business with them in the future!
Herb came and saw us on his vacation and ended up buying our beautiful one owner Mercury Sable with only 44,000 miles. He drove the vehicle all the way back to New York! Thanks Herb.
Greg with our salesman Tom Kraus taking delivery of his one owner 2003 Jaguar S-Type with only 66k miles. Thanks for the business Greg! Enjoy!
eBay feedback: Beautiful Lexus at a great price. I recommend this seller.Tom you're the best!! Thanks for the business Robin and Travis. Enjoy your new Lexus!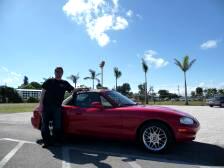 Jamie standing with his 1999 Miata after delivery. Jamie will race this Miata up in Illinois in a spec class and spend more than $30,000 modifying it right when he gets home! Make sure to send us pics!
Dan came to our lot to check out our large selection of convertibles and fell in love with this beautiful Mercedes. Enjoy Dan! Picture: Tom Kraus (right) with Dan
This is the 2nd vehicle Chris and his wife have purchased from Auto Express South. Chris and Cindy flew down a few weeks prior to purchase a Jaguar and fell in love with this SLK. They now are the proud owners of both!! Wevhope you enjoy your Jaguar and Mercedes! Have a safe drive home!
Jim flew in from New York to pick up his low mileage Dodge Ram truck. He used to own a car dealership in his home state and is planning on opening another one in the near future. Thanks for the business Jim!!
Thanks Tom, I will spread the word in my industry about you guys,,you have some really sharp vehicles. Thanks for tire switch and detailing the car for me,,you guys are great 100% Feedback all the way,, Kenny
Charlie and family with myself (Tom) after picking up thier Tahoe Z71. Have a safe trip back to Kentucky and we look forward to seeing you again when you move to Florida!
eBay Feedback: Car in very good condition, Tom is good to work with and would buy again.
eBay Feedback: Seller extremely helpful. Communicated promptly and honestly. Would deal again!!
Leigh and his Wife Freda with Scott after the delivery of thier 2002 Chrysler Sebring! Have a safe drive back to Canada.
Tim and Sharon drove down from Tennesse and then drove thier beautiful Lexus back home! Enjoy!
Clint and his wife with Scott in front of thier very rare 2000 Cadillac Eldorado Convertible!
Tom and Scott: Jeanne and I want to thank the two of you for the courtesies you extended us before and after the sale. We recognize the car we purchased was not very expensive but it felt as if we were buying a new Lexus with the way you handled the delivery. We wish you great success with your business. You are more then welcome to post this on your website. Dick and Jeanne
Debbie and Mike with Tom O'Neil outside Auto Express South taking delivery of thier new SLK320 convertible. Thanks guys! Enjoy!
The best buying experience I ever had! We wouldn't hesitate to drive the four hours next time we purchase a car or truck. Thanks Tom, the Cobra is awesome!!!
Rich and his wife standing next to Tom O'Neil after picking up thier new 2004 Nissan 350Z convertible. Thanks for the business guys!!
Tom Kraus standing with John and Susan after taking delivery of thier 2001 Chrysler Sebring convertible for thier Florida home.
eBay Feedback: Lots of communication - seller that cares
Jerry and Carolyn with Tom Kraus taking delivery of their new Chevrolet Silverado Truck. Thank you for the business and enjoy your new truck!!
Bill came down to visit us from Virginia and then took the Auto Train back home! Thanks for the business!
Ken with Tom in front of his new 2002 Chrysler Sebring. Thanks for your beautiful trade in Ken and enjoy your convertible!
Duane took delivery of one of the most beautiful XK8 convertibles we have had the luxury of selling. That's a sharp car Duane!!
eBay Feedback: great transaction, and Tom was extremely helpful on all matters, would do again
Jay standing with Tom Kraus in front of his new Mercedes Benz convertible. Jay purchased the vehicle for his Florida home and will remain an Auto Express South Service customer down in Florida!!
Tom O'Neil standing with Pat outside his Naples Home after the home delivery of his new Jaguar XK8 Convertible. Our family thanks you for the business Pat and we're glad we could help you add another beautiful car to your collection.
Frank came from our neck of the wood in Naples, FL. He traded in his beautiful 1987 Corvette with only 65k original miles. Look for it on our website soon!
Joyce in front of her new Beetle with Scott! Thanks for the business Joyce!
James drove his beautiful one owner Mercedes convertible all the way home to Michigan! Have a safe trip and thanks for the business.
Matt came down to visit us in Florida to escape the cold. He picked up his beautiful M3 and drove it home. Enjoy Matt!
Christine enjoy your beautiful low mileage Camaro convertible! Thanks for the business!
After looking at a number of used car dealers in Southwest Florida, we were lucky to have found Auto Express South. None of the other dealers held a candle to the selection of cars, or the helpfulness of the staff at Auto Express South. We would like to especially thank Scott for all of his help in getting our car ready, as well as expediting out plates and title. Should we be in the market for another car in the future, we will definitely make Auto Express South our first stop. Brent and Connie
Erik drove over from Miami while on vacation to purchase our 2004 VW Touareg to ship to his home in the Dutch Caribbean Islands. Enjoy your new vehicle!
Jonni taking delivery of her beautiful new 2002 VW Beetle!
Ebay Feedback: Excellent seller, great and trusting to do business with
eBay Feedback: Very responsive + earnest seller. Went the extra mile to ensure my satisfaction
eBay Feedback: I wouldn't hesitate to do business with the O'Neil family again! Love the Jaguar
Terry purchased a 2002 Pontiac Trans Am from us and gave us a beautiful piece of artwork to hang at our dealership. Thanks Terry!
John and his wife purchased a beautiful low mileage BMW convertible from us. Thanks for the business!
Andy purchased this 2000 Chevrolet Camaro for his son while in Singapore! In this picture you can see Andy's son and his friends taking delivery of the Camaro with Scott.
Lori Drove 6 hours down from Tallahassee to pick up her beautiful Audi TT and loved it. Thanks for the business Lori!!
eBay Feedback: Excellent Transaction, Great Car, Excellent Communication!!!!
Eray's 2nd purchase from us this year. Thanks for the business and enjoy!!
Joanna standing next to her beautiful 2005 Chrysler Crossfire. Thanks for being such a great customer. We hope we have the pleasure of dealing with you again.
We picked up Rnady at the airport and he drove his MR2 all the way back to Conway, AR. Have a safe trip and enjoy!
This is Arlene's 2nd purchase from us and I'm sure it won't be her last. Thanks for the business and enjoy your gorgeous SL500 Sport!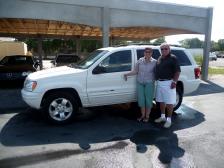 Dave and Susan purchased this beautiful Jeep from us. Susan flew in from Colorado to spend a few days in the sunshine state then drove it all the way home! Have a safe trip and enjoy!