Buy Authentic Ancient
Greek Roman Medieval Byzantine
Coins from one of the Best Coin Dealers on eBay
My name is Ilya Zlobin and I am a world-renowned expert, dealer and enthusiast in all types of ancient and antique coins. One of my goals is to make ancient coin collecting easy and fun for anyone and at the same time accessible with great values that you can find here. All items you buy from me are guaranteed authentic for a lifetime. One of the benefits you get when you get a coin here is the amount of professional research and great photography that goes into every coin. You can see exactly what you are getting and you get exactly what you see. There are also great pages in my store, which are accessible above, such as Roman Coin Collecting Guide which features a chronological list of every emperor that ruled the Roman empire. This way, you can start seeing authentic ancient coins of those emperors right away and also finding great deals. Every search result can be re-organized to fit any specific criteria, such as lowest to highest priced or highest to lowest priced and so much more. There is a 30 day satisfaction guarantee where you can return any coin or coins you purchase within 30 days for a full refund. My goal is to have returning customers for a lifetime by providing amazing value, customer service, research, professionalism and going the extra mile that anyone can appreciate.
<-- You can click on the categories on the left to find all types of Ancient Greek, Roman, Medieval coins and beyond.
Λ
| There are articles and links above that will help give you great ideas about other great topics that are available and make it easy to search my store for them.
You can find some great deals by clicking the links below,
How to Do Searches In My Store:
These are links to searches such as Greek Roman and silver in my eBay store and sorted by lowest priced first, which you can do also. If for example you are looking for a certain sized coin, you can select "in titles and descriptions" and find all coins such as 18mm, 17mm, et cetera. This is useful if you are looking for something of a specific size you need for jewelry. So if you are looking for a specific coin.
How to Use the numbers on my Listings to Find Items You Like Again
Item: i36611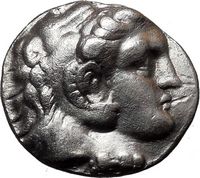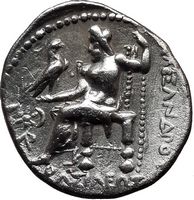 Here is an example of an Alexander the Great silver coin that is in my eBay store.
Right above the picture, it says item: i36611. If you write this number down (make sure to include the i, as in i36611), you can search for it later in my eBay store or on eBay by typing it in to find it again.
You are encouraged to Make Offers!
Shopping here is a win win for both of us. You can get a great discount by making an offer. This way it is a win win, you get an amazing deal and I am happy because I provided great value, service and may have you as a patron for a lifetime.
Welcome to the wonderful world of ancient coins!
---
Below are some topics I cover to help people find me.
Some topics covered in my eBay store.